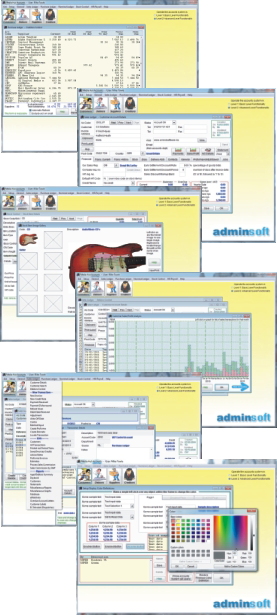 What people have been saying about Adminsoft Accounts....

"I am totally impressed by your program and the fact that other industries are being considered. I am also privileged to say that your software is becoming very famous in my home town.  I can't stop talking about how functional and practical your software is, that and the fact that it is totally user friendly.  I just love it. Thank you for being one of the software programmers that cares enough for the small business owner  to make your software free to use.  You are the best in my books." Lorraine, South Africa

"I would like to develop a course and workshop for this product in conjunction with yourselves, I was just blown away as to the functionality and relative ease of use. I've been in the accounting business since 1974 from costing to Acquisitions." Graham, UK

"I have just installed your software and it looks good." Nicki, UK

"I have been using your software and I love it." Hope, USA

"I have been evaluating,  and I  am in the process of purchasing [editors note: Software Registration Key] this software as I impressed by its usability." Kieran, UK

"I love using admin soft and will continue using and recommending to my friends." Samantha, UK

"You doing a great job. It's very good." Keerthi, Sri Lanka

"We have been using Adminsoft for a few years now and we are absolutely delighted with it." Barry, UK

"I have been researching replacement stock/ control/ invoicing/ accountancy software for a friend in the hairdressing business in Spain. Having reviewed several suggestions, he says your product seems ideal." Robert, Spain

"I have been looking at your software and think it is very good." Lee, UK

"Looks a great program that we could usefully adopt. Incidently I have got the book!" Mike, UK

"Love your product." Ronan, UK

"Firstly, both our clients who use Adminsoft have said how much they like it." Peter, France

"I have recently been using your system as part of my everday business.  I would like to say how great the system is and how easy it is for first time businesses to keep on track with things." Mitchell, UK

"I have downloaded and installed software. Not being an accountant but having small business - I find software quite user friendly." MC, South Africa

"I have just downloaded your package and it looks very interesting. Currently, and for many years, we have used the MYOB package but this will no longer be available to us from next year so we need a good, reliable alternative." Aidan, Ireland

"The system seems so good, the functions and thought that seems to have gone into it really seem to go above [REDACTED] and other accounts systems I have looked at." Charlotte, UK

"I am a new user in South Africa, and I think your product is great." Gerrit, South Africa

"Love your software – it is absolutely brilliant." Trevor, UK

"Firstly, A Big Thank You for the wonderful program that you have made available for us to use! Its an exceptional package and does everything we need it to do." Gerald, South Africa

"I have been looking for a software like yours and I like it a lot, very simple interface a couple of clicks and you know where things are." Harold, USA

"Congratulations on having such a wonderful software for free use, its very convenient especially for small growing businesses and very easy to use. I am actively promoting the use of Adminsoft in Uganda by helping first time users with installation." Amos, Uganda

"I am the Treasurer for our local village hall. Our income is low and we do not have the finances to purchase expensive accounts programs. I found your website yesterday and downloaded the program and it fits our needs exactly. It is easy to use which is very helpful as I am certainly no accountant. So Thank You for an efficient, easy to use and FREE program." Elizabeth, UK

"Many thanks for the update and the inclusion of OOffice as an alternative to MS Office. You don't know just how fantastic that is." John, South Afirica

"Just started using your software – which by the way on initial use looks very good." Russell, UK

"First I want to say that the Adminsoft Accounts software is really great." Eric, USA

"Loving the new V4 of Adminsoft Accounts, and the payroll part as well. The new features in 4.09 I have tried are copy and pasting HTML staight into Excel 2010 starter. Brilliant." Trevor, USA

"I would like to say your free program is great and has given me an insight into how my books should be kept official. I also find the program easy to use." Graeme, UK

"I would like to say that Adminsoft free version was perfect for our business." Christine, UK

"Just wanted to give my feedback about the program. To start off, I think the application is quite easy to use and laid out help. You also have good help on all the features." Raghu, India

"After going through your accounting package I must congratulate you for a job well done." Lee, Singapore

"I am very impressed with your software and when I have played around with it a bit more will buy a few copies." Bill, USA

"I would like to say thank you for this software. I really appreciate that you make it available for free. As I found it very useful I paid for it." Peter, UK

"Firstly congrats on a fantastic accounting program. I have been scouring the net for a free system as have found our local [REDACTED], also free, a bit difficult especially for non acountants." John, South Africa

"Many thanks in advance, I love your software." Sam, UK

"I am an accountant and I am thinking of using this package for my own accounts and once I understand it, to be able to recommend it to my clients. Stephen, UK

"Thank you for the programme.  It looks brilliant so far and fairly simple to use." Sharon, UK

"This is absolutely astounding support and customer care; I am most impressed and have been heavily promoting your software wherever possible. This is the only package that caters properly for PayPal fees." Dave, UK

"I have recently started using you account software to keep my books. The software is amazing and I'm grateful that you are good enough to let people use it free." Marc, UK

"The accounts software is really good." Hans, Germany

"i just started using your software since 2 days ago. so far, i find it is very useful and fulfill my needs. i am very happy with your brilliant idea." UK

"I installed this system and it is so great." Ryno, South Africa

"I congratulate you on a really great program, and I wish you more success." Petro, Saudi Arabia

"Thank you so much for your time and trouble in developing this wonderful accounting software." Robert, South Africa

"I am testing your software and so far it looks OK." Adriaan, Netherlands

"Been using the adminsoft accounting for a number of years. Like it a lot." Chris, USA

"Keep up the good work, I like the program very much." Andrew, UK

"I have almost got to the point of having set up the software to start using it, and generally find it relatively user-friendly compared to other products." Kevin, UK

"I think admin soft is a fantastic package." Samantha, UK

"First of all a big thank you and pat on the back to everyone involved in developing such an excellent piece of software." Barry, UK

"I am trying out your software for our company. It looks great." Fred, South Africa

"I have just downloaded your accounts program, which looks like it will do everything we are after." Rachel, UK

"I have just started using Adminsoft and it is amazingly easy to use and customize." Salim, Australia

"Thanks for providing the world with such a beautiful and easy to use software." Budhaditya, India

"This is the best accounting software ever, easy to use as well." Cindy, UK

"Love your product. Keep up you great work." Simon, UK

"I've now been using Adminsoft for 6 months and generally I'm very happy with how it works." Donovan, UK

"Have just installed your software and it is great." Nigel, UK

"I have tested your freeware and find it a outstanding piece of work. You guys have thought of everything." Sasha, UK

"Thank you very much for your free accounting software. It sure helps a lot for a small person like me, who just start a small business." Nordin, South Africa

"Really impressed with your accounting system." Dean, New Zealand

"I have been using Adminsoft for a while and it's great." Stuart, UK

"Still loving Adminsoft!!" Chris, UK

"I am currently using the free accounts package, firstly, congratulations, its fantastic, I have used most accountancy packages in my time, and I love this one." Pamela, Ireland

"I have worked as a Systems Accountant for almost 5 years and I have to commend that your free software is highly recommendable and commendable." Ayo.

"Thank you for a good "Total Package" system. I started a small Industrial tool supply business, tried various software and found yours. I also tried *** Accounting freeware – nice basic software but not as informative and clear as yours." Lzak, South Africa

"Thank you very much for an excellent accounting package." Ridwan

"First of all I would like to thank the people at Adminsoft for producing an excellent piece of software! I have been using it for three days now and have found it to be really user friendly in comparison to the "***** accounts" that I have been using to raise my invoices for the last six years." Barry, UK

"I wanted to find a compact application to solve accounting issues for my firm. I found yours that I really appreciate." Zsolt, Hungary

"I am a Chartered Accountant....Congratulations. You have built an absolutely beautiful system." Graham, UK

"I love this accounting software" Kirsten, Australia

"I am trying your software and found to be good." Suresh, India

"Hi there - been using your software since February and loving it!!" Chris, UK

"After a days screening and checking and trial documents, I am happy to say that this seems to be what I need." Margret, South Africa

"Firstly I want to say thank you for the wonderful software that you guys have made available to us and this absolutely for FREE! A BIG THANK YOU! It could not have been easier! You guys have made it so simple and yet it has all the needs and functions of a purchased accounting package and is way more user friendly!" Gerald, South Africa

"A Big Hello from The Land Downunder! And a big thank you for your amazing software!" Grant, Australia

"I think it is a terrific program. It works very well for our small businesses." Tony, UK

"I found your program and spent a lot of time checking it out before deciding to use it. It looks perfect for my business." Michael, USA

"I have downloaded your automotive program and i like it very much as it works fine for my business" Ethel, New Zealand

"I have been using your programme for about 6 months and find it very easy to use" Roberto, Italy

"I am trialling your software which appears to be just what I am looking for" Jones, UK

"I think you have a great program and I will continue to use it now that I have had sometime to see the product." Patrick, Canada

"So far I've been capturing all my wife's business transactions on the software, and I like very much what I've encountered so far." James, South Africa

"I have just come across your website today, installed your software and trialled it. Thankyou - this is something I would consider recommending to my bookkeeping clients." Fleur, Australia

"I want to use your software. It is very easy and user friendly." Dipu, India

"Firstly I must just say that the installation and configuring of this software was amazingly effortless. Well done!" Ross, South Africa

"I have been using Adminsoft now for 3 months and am very impressed with its overall design" Andrew, UK

"I installed Adminsoft Accounting and love it" Dave, USA

"I am happy user of AdminSoft." Oren, USA

"I am using your software. Everything is perfect." Vitaly, UK

"Thank you for a very nice program." Anders, Denmark

"I downloaded your freeware program to try, and love it. I have downloaded several and found this one to be very user friendly." Joel, USA

"We have been using Adminsoft and we like it." Lina, Jakarta

"Thank you for creating a very comprehensive yet free accounting software." Angela, Singapore

"I have recently downloaded your Freeware and am currently evaluating whether it will do everything i need it to....but first indications are really encouraging." Stuart, UK

"Hi, just like to say your software is great." Rob, USA

"We are working now since October with your free account system and are very happy with it !" Markus, France

"Firstly, congrats on an application well done. The more I discover, the more I like." James, USA

"I am impressed with the program to date" Ron, USA

"I downloaded your software as freeware copy for starting new medical store. In future we will buy your software. I found it good." Muhammad, India

"I love your software it is fantastic! I work for a small company and and have just started using the software." Helen, UK

"I've just started using Adminsoft accounts and finding my way round it, looks good so far" Myles, UK

"Firstly, thank you for your fantastic software. It seems to be everything I could hope for in a business accounting application." Bev, USA

"Thanks for your good accounting program." Marcel, Malawi

"After looking around the internet for several days, I came across Adminsoft and have been very impressed with its ease of use.." Cohen, UK

"I have been trying out your accounting package which I think is superb." Jason, UK

"I am evaluating your system ........ I am not an expert - but I am impressed." Gert, South Africa

"What I've seen so far, in an hour's time, looks great." Jean

"I have just started to use your accounting software, which looks great!" Ian

"I was looking on the net for an accounting software and I came across with your application.  I downloaded and installed the app and I must say that I was positively impressed." Omar, Malta

"I am just trying out your accounts software and I must say it looks pretty good and easy to use...." Nick, Spain

"Nice program.  I have been using MS Accounting 2008 Express and have found it to be too cumbersome in that its operating properties really tie up one's machine – IT'S A HOG!! Adminsoft is nicely compacted without the hoggish bells and whistles." Albert

"I just downloaded your software possibly for a friend to use.  Quickbooks is just too expensive and forces purchasing a new one every time you turn around. Thank you for the freeware!" Sherrie, Costa Rica

"Yesterday I downloaded your accounting software - looks good, thank you." Roseanne, UK

"I have been evaluating the adminsoft accounts package and am suitably impressed....." David

"I have downloaded Adminsoft accounts and checking that it is suitable to my needs. I have created a file in Sage 50 format from my existing customer database and imported it successfully into your system - worked beautifully with 10,000+ records." Steve, UK

"I am using your freeware version of adminsoft, which I have found very useful...." Chris, UK

"Still finding my way around the system but from what I can see it looks a really good package." Clive, UK

"I came across your free accounts download - and was both amazed and touched at your ingenuity and generosity! Thank you for sharing your expertise with small business owners like myself who are so overwhelmed by all the 'technology that is available but never affordable' out there!" A'isha, USA

"Fantastic support for this product and much appreciated by me......" Chris, Isle of Man

"Thank you for a comprehensive, very user friendly software package." Younus, South Africa

"I have been testing a lot of accounting software at the moment and find this the most user friendly." Diana, Australia

"I just wanted to say thank you for developing such a great and comprehensive program!!" Thomas, USA

"I have just installed your software and I'm impressed." Mick, UK

"I downloaded your accounting software and find it very good." Max, Namiba

"I've been looking for ages for freeware accounts for Non-Trading/Not-for-Profit and adminsoft looks to be ideal." Norman, UK

"Looks like a very nice accounting program." Bob, USA

"Hello, recently I have downloaded, to tryout, adminsoft accounts.  I like the program so far...." Mark, USA

"Still trying it out but looks very promising."

"It's a little early yet to tell how your software runs but from the few minutes I spent with it I was pleasantly surprised."

"I have looked at hundreds over the years and I must say your package is very good - easy to set up - logical to use - simple to enquire - drill downs - reasonable pre defined reports. I think most small business owners could get their heads around this - well done!"

"....you could easily take this package forward as a medium to large corporate package and charge accordingly - with plenty of consulting hours!" - note from Adminsoft: Thanks, but we'll continue to ship it as Freeware!

"I found your software on the internet whilst looking for something else and I looked at this and thought this was the best system yet I have come across for my new business venture well done. Thank you."

"Looks like a great program and am excited about using it instead of Quick Books! Thanks for making it available."

"Through start-up I have found this software to be extremely powerful. I can't wait to go live with it. It will save me so much time and frustration. With the accounting and customer features I will have much more time for selling. Thank you thank you thank you."

"We are a New Zealand small business intending to provide education and industry training to specific learners and locally Whihc is a small island in the Pacific off the Coast of New Zealand. we think your service is awesome and will be sending it on to our networks as we grow and develop. Thankyou"

"Simply better than the best"

"This Software is well written and has a good feel about it. I would recommend this product to any one. Keep up the good work you have a great program. Allan"

"I haven't fully experience with it yet but I think it has all the features I have been looking for for my small internet business."

"Fantastic I have tried out 5 different accounting software packages this weekend after setting up my company this will be the one that stays."

"The Best Small Business Free Account Software available! Excellent work!"

"IT IS JUST GREAT FOR WHOM WHO HAVE NOTHING EDUCATION ON ACCOUNTS. SIMPLY GREAT SOFTWARE.............THANK YOU SIR FOR SUCH SOFTWARE"