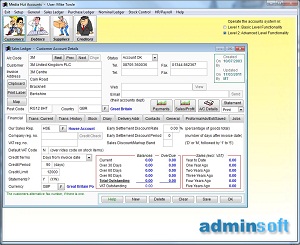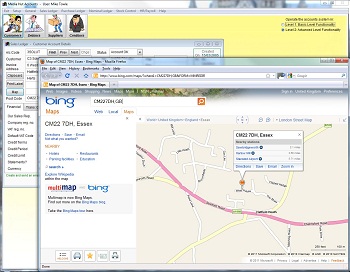 Accounts Payable /
Purchase Ledger
Keep track of all your account and cash suppliers. Enter invoices, credit notes, debit notes, payments, dishonored payments (can happen to the best of us!), early settlement discounts, cash refunds, write offs and adjustments. You can even contra to a Sales Ledger account, useful if any of your suppliers are also your customers. You can raise remittance advices, keep a diary for each individual supplier, a list of contacts, details of any factoring or invoicing discounting, pro-forma invoices received, the list just goes on!
It can display graphs showing purchase history.
Adminsoft Accounts is internet aware, so at the click of a button you can send an email to your supplier, go to your suppliers web site, and even view a street map showing where your supplier is located (uses www.multimap.com).
There is a full range of reports available, including Aged Creditors, Daybook, a General Supplier Report, Purchase Analysis, and Suppliers in Purchase Value order.
Link to multimap.com (bing.com) to Show Location of Supplier


Contact Names, Email Addresses & Phone Numbers


Supplier Contact Diary


Factor Details


Remittance Advices


Purchase Analysis Codes


Purchase Invoices and Credit Notes


Transactions can be Input Individually or in Batches


Proforma Invoices Received


Contra's, Refunds, Debit Notes, Write Off


Letter/Fax Writing


Dispute/Query Handling


EC Intratstat for Arrivals


Label Printing


Mail Shots


eMail Shots